Hey, I'm Robert-Jan de Dreu. A freelance software engineer, developing software since 2009. While using PHP and Javascript I build well structured and tested software.
I enjoy working together with other software engineers to find the best solution possible. If you want to know what I'm capable off check out my skills.
I'm located at Zeist, The Netherlands. Feel free to contact me if you need me for a freelance job or just to ask some questions.
Thank you for reading!
---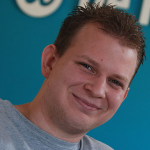 Contact Me
Do you want to hire me or find out more about what I can do for you? Feel free to contact me on one of the following methods.